Secondary fund buyers predict a 1.39x gross ROI for 2014 vintage secondary fund transactions. This data is the result of a survey at the 2014 September annual "Secondary Buyer Dinner" that I host each year in New York City. Over 85 professionals attended (all from secondary funds), representing the vast majority of firms in the industry by dollar value.
Although a 1.39x may seem like a low multiple at first, it compares quite favorably to other choices, especially in this environment.
How will secondary deals closed by all firms in 2014 perform,
end of day gross ROI? (% of respondents)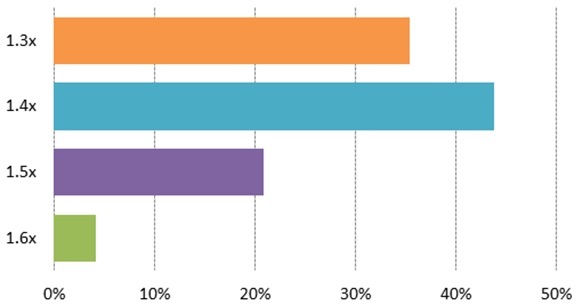 Secondary funds acquire assets in the middle of their distribution periods. As such, cash flows from deals rapidly accumulate. This boosts IRR. A 1.39x gross ROI could translate into close to a double digit, 10% net IRR for the limited partners.
Finally, even if net returns are down somewhat from recent gangbuster years, this may be a favorable expected return compared to potential outcomes from other 2014 investment opportunities. It is a challenging time to make investment decisions: 10 year treasuries yield under 2.5%, stocks are over 20x CAPE PE, and hedge funds have had a tough time lately. It is the LPs at the end of the day that really matter and they continue to make large commitments to secondary funds – that is a vote of confidence that counts.